Sport
Participation in individual and team sport creates more rounded individuals and, as such, is a fundamental aspect of daily Cothill life. Our ethos focuses on enabling boys of all abilities to realise their sporting potential and nurture their passions and interests.
The main team games we play are football, rugby, hockey and cricket. In addition, there are a number of other sports on offer including swimming, tennis, squash, skiing, polo, athletics, gymnastics, shooting, climbing, basketball, table tennis, golf, badminton, netball, snooker and cross-country.
We are blessed with extensive and beautiful (and very dry!) grounds including numerous top-level pitches, six tennis courts, a pristine nine-hole golf course, a swimming pool, an outdoor climbing wall, a traverse wall, a BMX track, skate ramps, a full-size snooker table and much more.
Most exciting of all is our brand new development, The Bailey Sports Centre, which opened in July 2023. This includes a state-of-the-art sports hall complete with four cricket nets, a tennis court, four badminton courts, an indoor football pitch and a basketball court with flip-down hoops. In addition, there is a large studio room and fitness suite, an indoor climbing wall, a squash court, changing rooms and viewing balcony. This new addition to our facilities will create a wealth of new opportunities for our boys.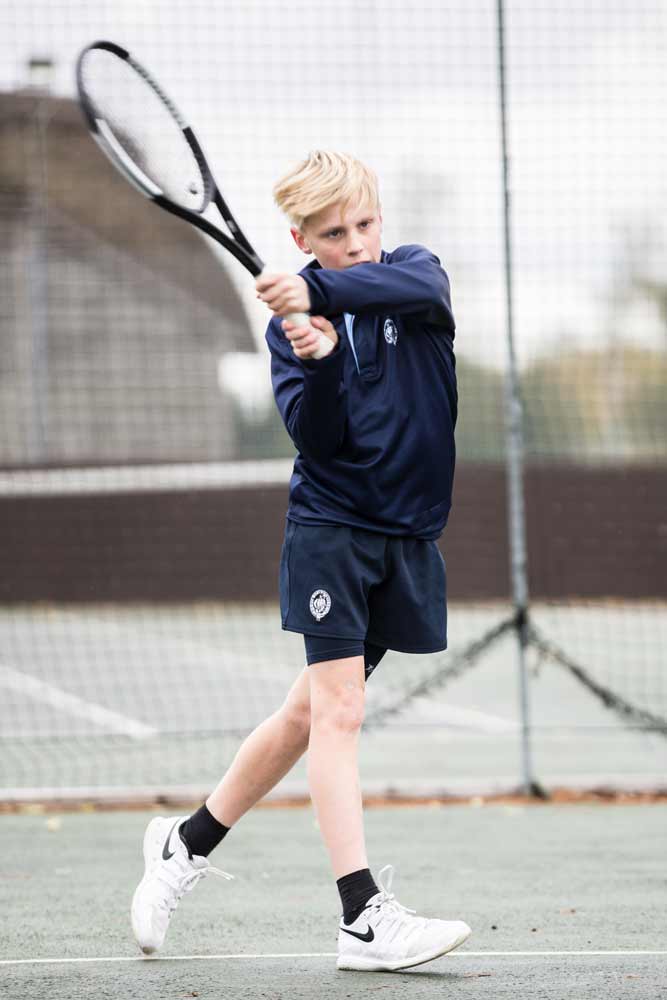 Here at Cothill, we are concerned with the development of sporting skills as well as character. We pride ourselves in giving as many opportunities for our boys to grow and learn through the medium of sport; all boys train three times a week in the main team sports, and it is very common during a typical week for every boy to be involved in fixtures representing Cothill.
In addition to the high calibre of coaching expertise on our staff, we have connections with external professional coaches who work with all age groups and abilities, and boys here can also take separate tennis and golf lessons with our team of pros.
Regular inter-school fixtures and group matches provide an environment of healthy competition and we have enjoyed a number of county, regional and national successes, as well as some fantastic national and international sports tours in recent years.
We focus on the development of technical and physical skills, but social and psychological aspects such as teamwork, resilience, leadership, decision-making and sportsmanship are also fostered and encouraged throughout the boys' time here.
Every boy's journey in sport matters to us and our aim is that each boy leaves Cothill with a lifelong interest in exercise and being active and healthy with fond memories of sport at Cothill.
To read about our sports fixtures click here.
Pupils achieve highly in sporting events, as exemplified by the considerable success of the school's rugby, football and cricket teams and the standards reached in a wide range of other individual and team sports.

Independent Schools Inspectorate