Weekend Activities
Boys have lessons on Saturday mornings and there are usually sports matches on Saturday afternoons.
At the weekends, the boys can choose to take part in a variety of activities. With extensive school grounds, top facilities and equipment, the possibilities are endless. Whether the boys fancy a kick about, like building dens in the woods, swimming in the pool, or crafting a sword and shield to re-enact their favourite battle, there is always something to do.
The options don't stop there. On top of all the onsite activities, the boys have the opportunity to go out on a range of excursions. Here's what's on this term.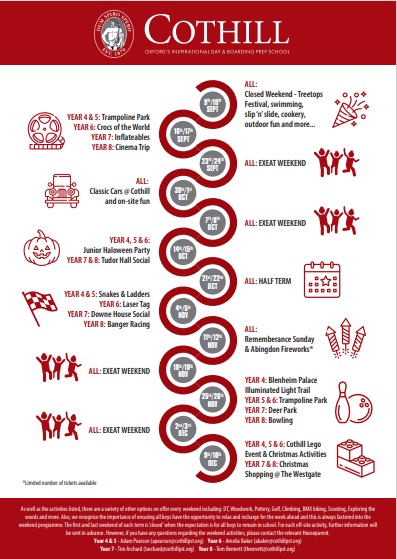 You can keep up to date with the latest Cothill weekend activities by following https://www.instagram.com/cothill_house/ on Instagram.
Fun-filled weekends jam packed with activities for all... boys can build dens or bird boxes, go pond dipping or interpret Notre Dame Cathedral in clay to their hearts' content."

Good Schools Guide
A wealth of retreats where boys can spend as much free time as they like indulging creative passions such as woodwork (a real favourite with boys, guided by a former police officer known as 'PC'), pottery and art.

GOOD SCHOOLS GUIDE